Online- Healthy Brains for Babies -Self paced training
August 21, 2020 @ 12:00 am

-

June 30, 2021 @ 11:59 pm

$15.00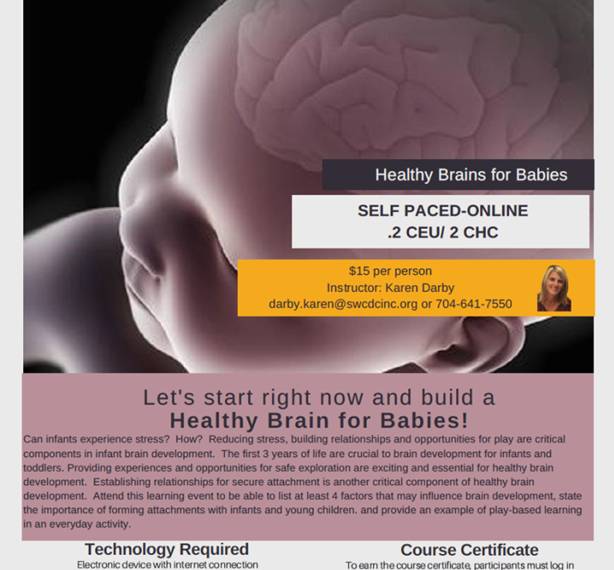 We all have stress right now.
Even infants.
Attend this training to build Healthy Brains for Babies!
Earn .2 CEU (2 CHC)
Just $15 a person
Or buy an individual membership and get access to all of our self-paced trainings for just $99!
All registrants must use their own/unique email address during registration.
Email addresses cannot be shared or used by more than 1 person.
Can infants experience stress? How? Reducing stress, building relationships and opportunities for play are critical components in infant brain development. The first 3 years of life are crucial to brain development for infants and toddlers. Providing experiences and opportunities for safe exploration are exciting and essential for healthy brain development. Establishing relationships for secure attachment is another critical component of healthy brain development. Attend this learning event to be able to list at least 4 factors that may influence brain development, state the importance of forming attachments with infants and young children. and provide an example of play-based learning in an everyday activity.
In order to earn the certificate, participants are required read course handouts, watch video clips, answer online interactive questions, and score a 90% or higher on a post knowledge assessment.
Instructor: Karen Darby
Credit Hours: .2 CEU/ 2 CHC
Registration Fee: $15.00
Contact Karen at darby.karen@swcdcinc.org, for more detailed information.
Related Events