Why Quality Child Care Matters to Businesses
Child care ranks among the top five factors responsible for employee absenteeism. In a poll of the nation's largest companies, employers estimated that unscheduled absenteeism costs their businesses more than $760,000 per year in direct payroll costs as well as lower productivity, lost revenue and poor morale. The latter effects, while often hard to quantify, can be the most devastating to organizational success. It's no secret – working families are struggling to strike a work-family balance. In recent years, it has been proven that there is a strong correlation between family, work satisfaction, and productivity. In order to meet and ideally exceed performance goals that impact the bottom line, employees must feel assured that their child care arrangements are secure.
Most working families cannot afford in-home caregivers, which makes the need for child care options outside the home essential to those seeking to secure and retain employment. In 62% of married-couple families, both parents work. 71% of single-mother families and 83% of single-father families are represented in the American workforce. Quality child care is therefore a necessity for many working parents and given the costs involved, it is one of the most significant investments in their children's future.
According to the U.S. Census Bureau, the median household income in Forsyth County was $45,809 in the year 2012. This was $641 below the median household income for the state of North Carolina ($46,450) and $5,562 less than the national average ($51,371). In Forsyth County, the average annual cost of full-time center care for an infant is currently at $7,500 – just a few dollars more than the average annual tuition and fees paid at a four-year state university. If a business participates in Child Care Resource Center's Corporate Services, their employees are provided with the information they need to find quality child care arrangements tailored to their unique specifications. This includes personal consultations with a certified child care expert. Employees may call the service to receive information about available child care options where they live or work. Information is community specific, up-to-date, and includes only legally operating child care programs.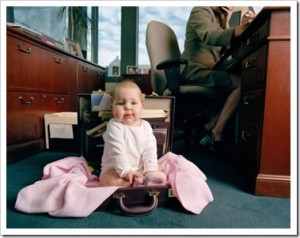 These services significantly reduce the amount of time employees spend searching for child care programs that meets their needs. The services offered by Child Care Resource Center provide the "legwork" in seeking viable child care arrangements, freeing up hours an employee might spend during the work day. The consultation with the CCRC staff and the consumer education materials help the employees feel more secure in their child care choice. Furthermore, on-site educational seminars workshops help inform employees on early childhood development and empower them to be better parents, enhancing their overall wellness and productivity.