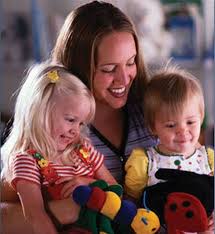 Child Care Resource Center's Nanny Solutions is designed to help you find individuals to come to your home and care for your children. We provide guidance through every step of the process – from recruiting and pre-screening to interviewing and employing a nanny. The cost of the basic service is $300 and includes a one-hour intake session with a parent specialist, a search of qualified applicants according to the family needs, and pre-screening phone interviews. (Note: Additional fees apply for placement of employment ads in the local newspapers.)
Nanny Guide
A complimentary copy of the very useful resource, The Family's Guide to Hiring a Nanny, is provided to all Nanny Solutions clients. Individuals interested in purchasing a copy of this guide for their personal use should contact a parent specialist at (336) 245-4900 or toll free at 1 (800) 937-7610.
Looking for Work as a Nanny?
If you are a qualified nanny and would be interested in being considered for inclusion in our database, please complete the forms below and return them to Child Care Resource Center Nanny Solutions (mail@childcareresourcecenter.org or fax  (336) 608-4352). If you have any questions, please call (336) 245-4900 to speak with a parent specialist.